System Wide • 07/19/21
Western Danbury Rides On-Demand Service begins Monday July 19th
The current 10 Route - Reserve Commuter Connection schedule will cease operating on July 19th.
It will be replaced with an "Uber-style" Rides On-Demand HARTransit service.
Riders can schedule rides at will, choosing pick up and drop off locations within the designated Reserve service zone.
Rides On-Demand serves the Western Danbury area between I-84 exits 1 & 2. Riders can choose pick up and drop off locations within the service zone map. Includes connecting service to the 3 Route and Brewster Train Station Shuttle (at the exit 2 park & ride.
Area points of interest includes:
Trader Joe's Parking Lot
Belimo
Matrix (The Summit)
Abbey Woods
Hotel Zero Degrees
Brewster Train Station Shuttle at Exit 2 Park & Ride
HARTransit 3 Route at Exit 2 Park & Ride

MCCA

Rivington Apartments

Crown Point Apartments

SpringHill Suites by Marriott

Ann's Place
Service hours:
Monday - Friday: 6:55 AM – 8:50 AM / 3:45 PM – 5:30PM

Fare:
Same as the City Bus
Effective July 19th:
If you do not have a smart phone or working computer: Please call 203-744-4070 x175 to schedule a ride.
Get the App here:

 If you have any questions, please call: 203-744-4070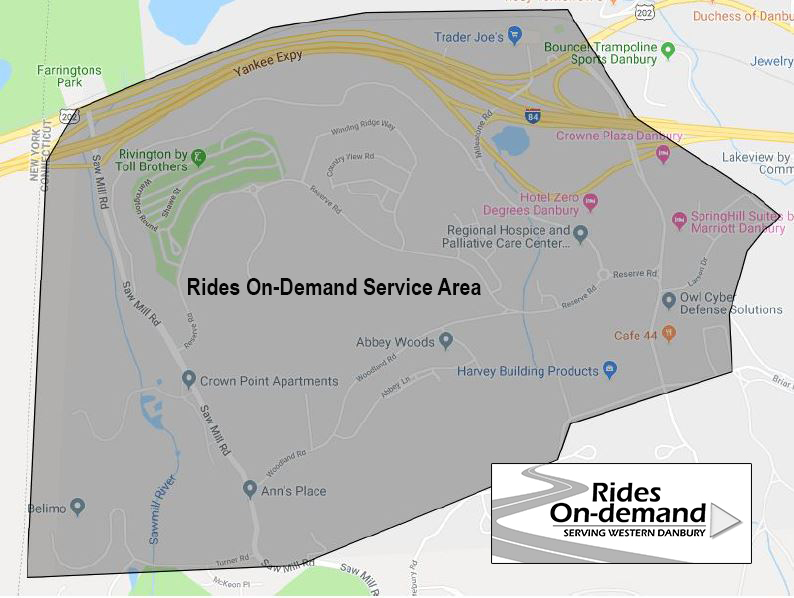 ---
< Back to Alerts page