Bus Operators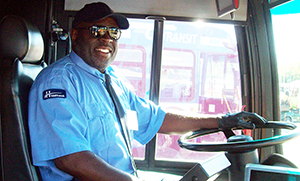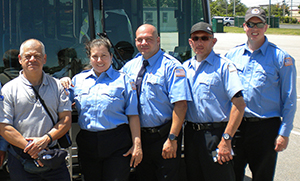 HARTransit is now accepting applications for full and part-time bus operators.
Seeking: courteous, customer service oriented and dependable individuals to safely operate our buses and provide the highest quality of service to our riders and community. Full time and part time driver positions open. CDL class A or B with PF, PS, PA or PV endorsements with no air brake restrictions. 
Signing bonus, insurance and retirement benefits.
Call 203-744-4070 x133, stop by our office, or download an application below.
Learn how to get a commercial driver's license (CDL) in Connecticut>
---
Service Person
Assist Mechanics I and II. Perform light maintenance. Service vehicles for next day's operation including fueling buses, check all fluids and parking the buses for the day. Clean buses inside and outside. Clean maintenance area. Perform operation of electronic farebox probing system.
Perform other light mechanical or service task as needed.
QUALIFICATIONS:
High school diploma and one year experience or completion of training school course. Must have and maintain valid Connecticut public passenger transportation permit and or Commercial Drivers License.
Applicants are required to pass HART's pre-employment drug screening test and, if hired, are required to participate in ongoing Random Drug and Alcohol Testing program and submit to HART's Drug Free Workplace policy.
JOB TYPE: Part-time
EXPECTED HOURS: 15 per week
BENEFITS:
SHIFT:
4 hour shift
Evening shift
Weekly day range:
Monday to Friday
Weekends as needed
---
Maintenance Worker
Responsible for cleaning and maintaining the interior and exterior of HART's buildings, grounds, shelters, bus stops, Pulse Point, and other related duties as may be assigned by the Maintenance Manager. Must be able to lift 50 pounds, move equipment and be capable of being active and on feet most of the day. Must work inside and outside, often under extreme weather conditions. During special circumstances will be required to work a flexible work week.
QUALIFICATIONS:
High school diploma preferred but not essential. One year experience in facility maintenance.
Job Type: Full-time
Expected hours: 40 per week
BENEFITS:
401(k)
401(k) matching
Dental insurance
Health insurance
Life insurance
Paid time off
Vision insurance
PAY: From $16.00 per hour
SCHEDULE:
8 hour shift
Day shift
Monday to Friday
Weekends as needed
---
To download an application online go to:
(FIRST save application pdf to your computer, THEN fill out and save again and email or print & mail to return.)
To mail/fax/email completed application / and or resume and cover letter:
HARTransit
Human Resources
62 Federal Road
Danbury, CT 06810
Fax: 203-744-0764
Email: HR@HARTransit.com
Office Hours: M-Th 8:30-4:30  Fr 8:30-1:00
Phone: 203-744-4070 ext. 133
EOE M/F/H/V
Subject to mandatory pre-employment and random drug and alcohol testing.
Employment Application (PDF)
(FIRST save application pdf to your computer, THEN fill out and save again and email or print & mail to return.)